【EXTECH Explores】
A 10 min Read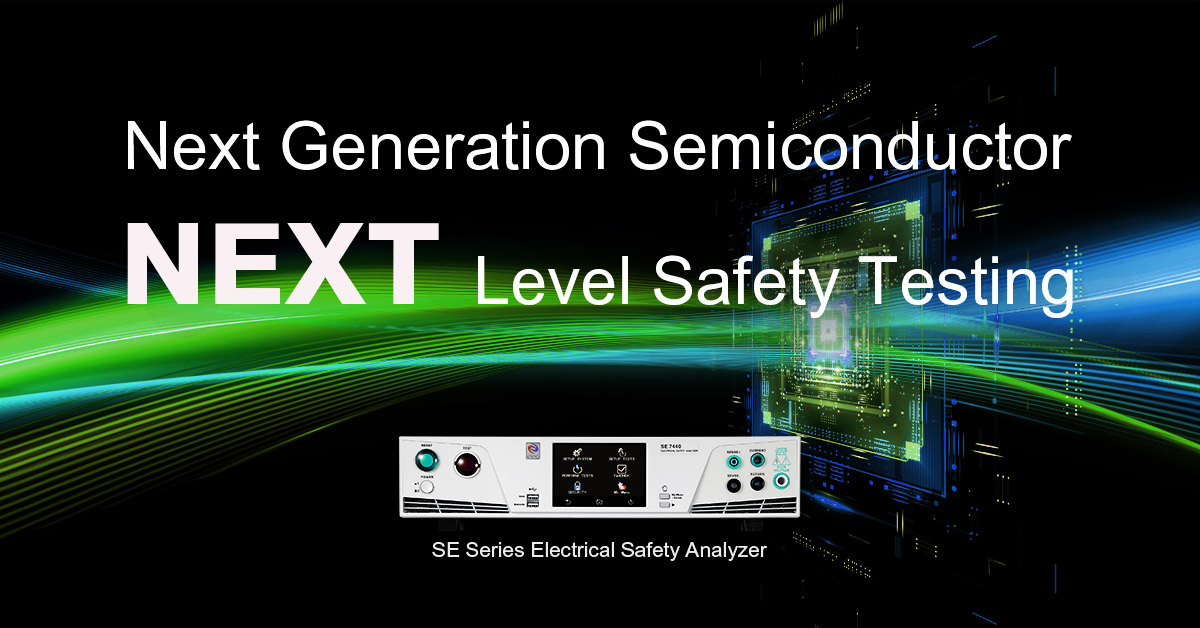 COVID-19 pandemic has changed our lives. Social distancing and remote working model have become the new norm and is rapidly growing. This stimulates the business in 5G, IoT, AI, and other related industries. Thus, semiconductors also on the rise. The new generation uses new materials – SiC and GaN, which can withstand higher voltage and larger current that bring more benefits to the development of industries. Yet, the amount of attention to the potential risk of manufacturing equipment safety to prevent operators from danger is equal.
A New Generation Semiconductor Needs Safer Manufacturing Equipment.
Aside from higher voltage and larger current advantages, the third-generation semiconductor also has better conductivity. Those advantages allow the new generation of semiconductors to work under harsh situations without much effect. The electrical performance of third-generation semiconductors has greatly improved. At the same time, safer manufacturing equipment should be required.
Currently, the manufacturing equipment safety standard is based on SEMI S22 (Safety Guideline for the Electrical Design of Semiconductor Manufacturing Equipment) by Semiconductor Equipment and Materials International (SEMI) to prevent the hazard caused by electricity and ensure the operators' safety.
To ensure the manufacturing equipment can bear high voltage and without damage, the Hipot test requires an input 1500 Vac for up to 1 min. When the manufacturing equipment is under malfunction, the current should flow to the earth smoothly. Therefore, the ground bond test (GB) measures if its ground terminal's resistance is smaller than 0.1 Ω. The leakage current on the equipment surface is the most easily accessible hazard for operators. To minimize the risk of electric shock, the touch current (TC) test requires that the surface should not have a current exceeding 3.5mA.
The technology used in manufacturing equipment's safety must be on par with the cutting-edge semiconductor technology. EEC's ESA, SE, and EST-300 series meet the SEMI S22 standard requirement in Hipot, GB, and TC testing. In the broad semiconductor application scope, every customer selects the proper instrument to meet various safety requirements. Many of our customers purchase SE series electrical safety analyzer as their precision semiconductor testing instrument.
Table 1: Manufacturing Equipment Safety Test

Criteria
Hipot Test
Ground Bond Test (GB)
Touch Current Test (TC)
Manufacturing Equipment
1500 VAC
Not exceed 0.1 Ω
Not exceed 3.5mA.
Source:SEMI S22 Safety Guideline for the Electrical Design of Semiconductor Manufacturing Equipment
Let EEC be the guardian of the semiconductor industry
The development of third-generation semiconductors will drive the growth in 5G, IoT, AI, and related industries. Yet, we must ensure the safety of semiconductor manufacturing to sustain that brighter future.
EEC has more than 40 years of industry experience and successfully helps many semiconductor companies solve their electrical safety testing challenges. We also collaborate with international labs to ensure that semiconductor manufacturing equipment establishes the highest protection for operators' safety. If you would like to learn more about electrical safety testing, click here. Or contact our sales representative for complete testing information.
---
Issue 12 – December 2020
Extech Explore is Extech Electronics Co. (EEC) monthly e-Newsletter that provides rich and intelligent content covering latest company news, electrical testing insights, solutions and applications. Please click here to subscribe. Happy Reading!
---
About EEC
For 40 years, Extech Electronics Co. (EEC) has been producing cutting-edge electrical safety testers and AC power sources for a variety of industries. We strive to earn our customers' trust by consistently offering dependable products, services, and reliable support for all testing applications.