【EXTECH Explores】
A 10 min Read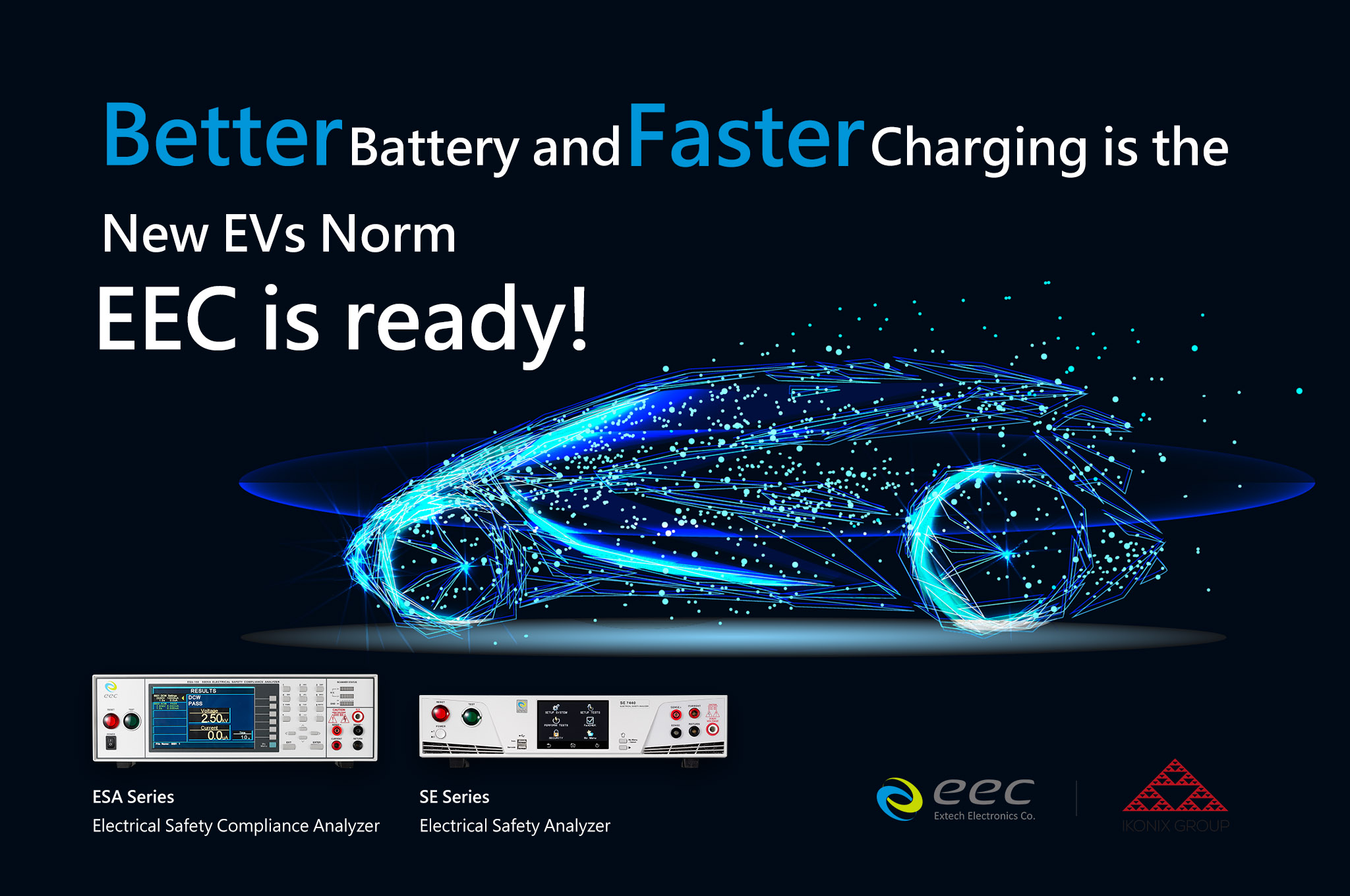 Electrical Vehicles (EVs) are getting popular each day; every automobile company is rolling out its latest generation of EVs to grab customer's attention. Recently, electric pick-up trucks are becoming the hottest trend within the industry. Due to its sizes, the powertrain and design to build for long last. Many companies improve their battery capacity and their charging rate to accommodate this challenge. To be toughened for any environment, these trucks also need to pass the highest reliability and electric safety tests. In this article, we will be covering the latest EV battery and charging station related standards.
The fuel for new EVs, now needs a tougher test
As the capacity of the battery increase, so does the aspects of safety issues that need to be concerned. UL 2580 (Outline for Batteries for Use in Electrical Vehicle) has set strict requirements on the electrical safety tests to ensure users' safety (see Table 1). To test whether the battery can maintain normal operation under the worst environment, UL 2580 mandates the Hipot test to see if the battery can handle up to around 2800V (more than 20 times of household voltage). In addition, to ensure the ground wire can redirect the fault current away when the battery is not functioning properly, it requires the ground continuity (GC) or ground bond (GB) test to measure if the ground wire has less than 0.1 Ω of resistance.
A better battery needs to pass the Hipot and GC test by the UL 2580 safety standard to minimize shock hazards even when it is malfunctioning. Most EEC customers select the SE Series Electrical Safety Analyzer when performing the test on UL 2580. As it is a compact size design and capable of performing ACW, DCW, IR, and GB testing in one system. A 4-in-1 safety analyzer makes the testing operations simple and intuitive and in overall, achieving the highest work productivity.
Table 1: Electrical Safety Test of EV Batter
Criteria
Hipot Test
GC (GB)
EV Battery
Up to ~2800V

Without Damage

No More Than 0.1Ω
Source: UL subject 2580 Outline for Batteries for Use in Electrical Vehicle
Faster the charging, stricter the tests
Currently, the methods to charge EVs is through conductive charging, and divided into DC and AC charging devices. Other novel methods (such as automatic and wireless charging) need extra time to evaluate their safety concerns and corresponding standards. Since new charging technology still under development, we focus on the relevant standards for conductive charging equipment in this section.
To protect our safety, EV charging stations also need to pass the tests required by IEC 61851 (see Table 2). The maximum nominal voltage of charging stations is 1500V DC and 1000V AC. In the electrical safety test, charging stations divide into two levels based on additional reinforced insulation protection in a fault state.
Class 1 only has basic insulation protection; the Hipot test voltage is up to 2700V. Class 2 has extra reinforced insulation protection, so the Hipot test voltage is double the test voltage of Class 1. The IR test requires Class 1 to have at least 1mΩ, but Class 2 needs to reach or higher 7mΩ. No matter which level it is, the ground wire's resistance should not exceed 0.1Ω, so the fault current can easily pass through it. The charging station's touch current (TC) should not exceed 3.5mA to ensure the users have no electric shock risk during the charging.
When greater power charging the car faster, the charging station need to pass the required tests. Hipot, IR, GC/GB and TC tests set by IEC 61851 to avoid electric shock or other hazards when charging the EVs. EEC's flagship 7-in-1 safety analyzer, the ESA Series Electrical Safety Compliance Analyzer is the number one choice for EEC's customers to perform a complete safety testing. With built-in seven different human-body-simulation measuring devices (MDs), making touch current testing simple. Also, when performing functional tests. EEC recommends the 6300 series three-phase AC power supply. With a maximum output of 150kVA, it can act as a power supply when performing charging station tests.
Table 2: Electrical Safety Test of EV Charger
Criteria
Hipot
IR
TC
GC (GB)
Class 1
Up to 2700 V
1mΩ
Not Exceed 3.5mA
Not Exceed 0.1Ω
Class 2

Up to 5400 V

7mΩ

Class I: charger with basic insulation and protective bonding for protection

Class II: charger with basic insulation plus additional insulation/ reinforced insulation

Source: IEC61851-1 Electric vehicle conductive charging system – Part 1: General requirements
Safety is EEC's Priority
When companies introduce their new, high performance electric vehicles. No matter how much greater the battery capacity or higher charging voltage. Safety testings are continue to remain on the top priority.
EEC has more than 40 years of industry experience. Our instruments has been testing across many of our electric vehicle customers. We are always on the front line to ensure our products are in compliance with the latest safety standards. If you would like to learn more about EV testing, simply click here. Or contact our sales representative for complete EV testing information.
---
Issue 11 – October 2020
Extech Explore is Extech Electronics Co. (EEC) monthly e-Newsletter that provides rich and intelligent content covering latest company news, electrical testing insights, solutions and applications. Please click here to subscribe. Happy Reading!
---
About EEC
For 40 years, Extech Electronics Co. (EEC) has been producing cutting-edge electrical safety testers and AC power sources for a variety of industries. We strive to earn our customers' trust by consistently offering dependable products, services, and reliable support for all testing applications.